Ceramic Flooring
Versatility in Design, Durability to Last a Lifetime
Tile flooring is an excellent option for your home. Often used in entryways, kitchens, and bathrooms, tile offers exceptional durability, easy maintenance, and supreme versatility in design. We carry a vast array of ceramic flooring, as well as porcelain, marble, and granite materials to choose from. There's a tile to suit every room, taste, and budget!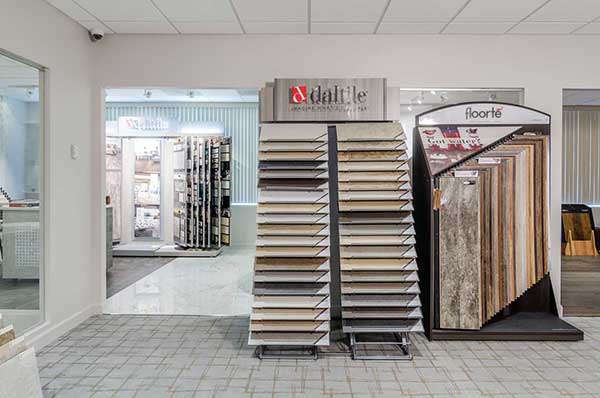 Whether you're looking to build your dream kitchen, turn your bathroom into a luxury spa, or stun your guests with a beautiful entryway, our creative design specialists can help. Our goal is to provide you with high-quality products and installation, as well as design guidance and expertise. Our hi-tech showroom will help you visualize your design options so you can make the best decision for your home.
How to Choose the Tile for You
Ceramic flooring and other tile materials come in a nearly limitless selection of colors, shapes, textures, finishes, patterns, layouts, trims, and sizes. Tiles can be elegant and understated, bright and colorful, timeless and elegant, bohemian and eclectic – there's an option for every style (and then some).
The best way to choose the tile that best suits YOUR style and home is to visit our showroom and consult our design specialists. It's almost impossible to imagine how a tile pattern will look in your home just by looking at one piece of tile. In our showroom, we have the technology to help you visualize your ceramic flooring digitally before you buy, as well as touch, feel, and see it in person.
Choosing the Right Tile Pattern
As if there weren't enough options to contend with, you'll also have to choose a pattern for your ceramic flooring or other tile material. In other words, you need to choose how you want your tile to be installed. There are several different patterns to choose from and each will produce a different look, feel, and style. The most common patterns are:
HerringBone
Offset / Staggered Brick
1/3 Offset
Grid (Stacked)
Stacked Vertical
Pinwheel
Random
Versailles
Basket Weave
Diagonal
Chevron
Don't feel overwhelmed! We're here for you every step of the way to help you choose the best tile flooring pattern for your home.